EMS PROGRAMME
Stimulate your counsiousness! This years chillout on the Paradigm Festival hosts some special guests, acts, presentations, workshops and other new things to experience. Like traditional Syrien food, workshop beatbox, moving mindful, go to the theater, be captured by ambient soundscapes and many more. In this area the Electronic Music Society (EMS) hosts three different stages: EMS Portal, EMS Tent and EMS Ground, all filled with an awareness based programm to stimulate you counsiousness. Also together with Groningen Verwelkomt the EMS looks to find out more about the new citizens in our society. Who are those people and what do they do? Find out what EMS has to offer in this programm overview.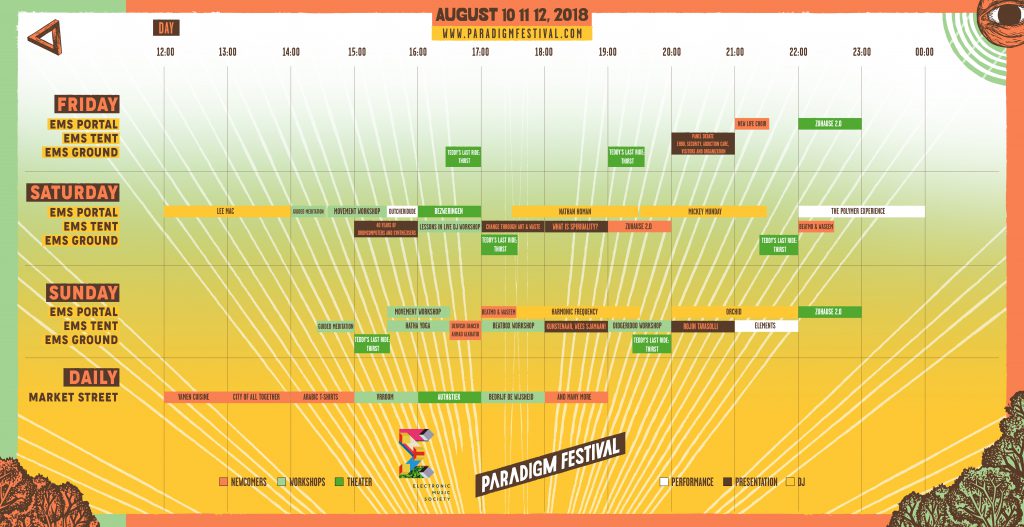 Acts:
AHMAD ALKHATIB DERVISH DANCER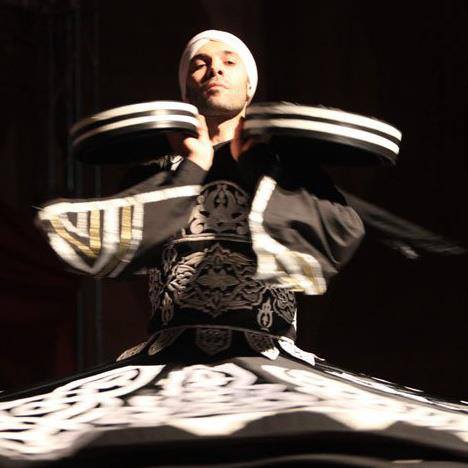 Sun 16:30h EMS Portal
Ahmad Alkathib will be dancing an authentic & traditional dance routine from Syria in the Middle East. The thought behind this dance is to spin and move like the world does. Ahmad will be eminating a journey for love and peace through his routine..
THE POLYMER EXPERIENCE LIVESET

Sat 22:00h EMS Portal
The Polymer Experience is an audiovisual performance project by Daniel Maalman, Jan Barceló and Marta Lofi, which combines a musical live performance which spans a variety of electronic psychedelic music styles with one of a kind, high definition, improvised 1970's style old-school handmade visuals.
The visuals are made by hand in real-time by Jan Barceló and Marta Lofi, completely from scratch, with a endless variety of different ingredients, during the performance. The visuals are prepared, on the fly, in a sort of field laboratory setting, and at the same time performed using improvisation, in synchronization with Polymers' music.
The music is performed by Daniel Maalman (Polymer), who also uses improvisation during his livesets, with the aid of synthesizers and a liveset system that allows the musical material to be played in many different ways and styles: ambient, dub, psychedelic electronica, chill-out, dubtechno and worldmusic oriented sounds, all pass by in these livesets.
All visuals are created the old fashioned way, like in the 1970's, with a lot of messy fluidic materials and kaleidoscopic effects, but in combination with modern technology, in full HD. With the use of high density cameras, kaleidoscopic lenses, a digital microscope with high magnification, several creatively designed techniques and processes and a variety of materials, fluids and objects, every performance is unique and can never be repeated in exactly the same way.
ELEMENTS
Sun 21:00h EMS Tent
Lars Meijer on Hang and Diego Abraham Torrecilla Villanueva on guitar. Elements will take the listener on a journey through a music landscape filled with different energies through the combination from the ambient effects of the electric/acoustic guitar and the mysterious sounds of the Hang.
DUTCHERIDUDE

Sat 15:30h EMS Portal
Nick Sebastiaansen on Didgeridoo: "With my didgeridoo I create soundwaves which represent the voice of the earth."
BEATMO & WASEEM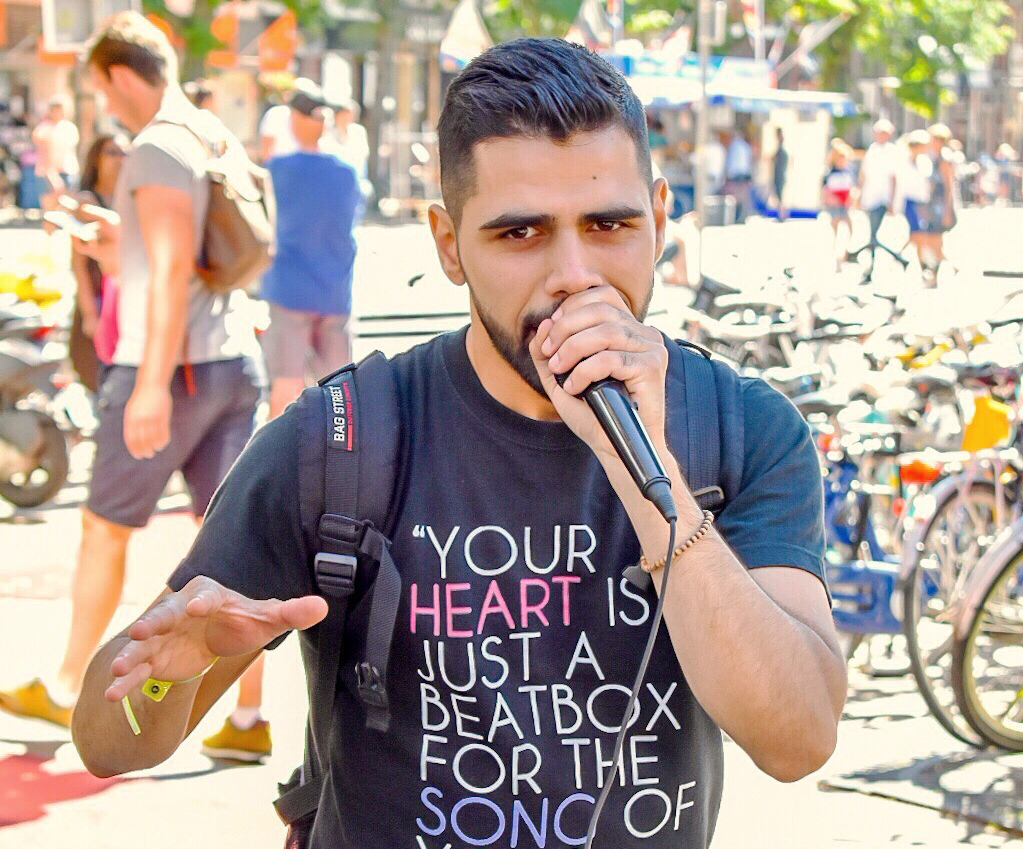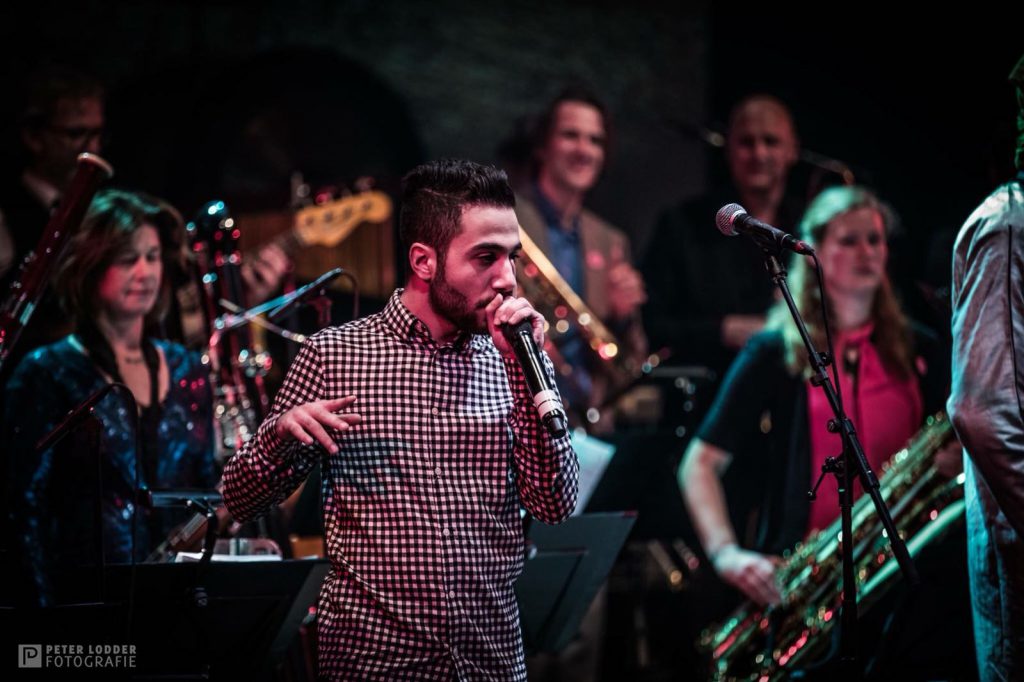 Sat 22:00h EMS Tent
Sun 17:00h EMS Portal
Get inspired by the powerful performances by BeatMo & Waseem. Their spontaneous style enables them to suprise you by taking you in with their unexpected and sometimes incredibly fast beats from the likes of drum & bass, techno, trap and hiphop. Beatbox isn't what it used to be and is being cultivated as an artform. BeatMo & Waseem show this to the crowd during their performances. In addition to performing, Beatmo & Waseem are also eager to teach people the ins & outs during their workshop in the EMS Tent on Sunday at 17.15h.
NEW LIFE CHOIR
Fri 21:00h EMS Portal
The choir consists of 10 syrian people who are all refugees. They've met each other in the asylum center, when neither of them had anything to do. That's how the choir came to be! The goal of the choir is to send a positive message in general and to also show their gratitude towards the Dutch community.
The choir consists of muslims and christians alike. According to them, music is the key that connects people. They can reach the hearts and minds of people through their music. They sing for love and peace through the new life they found. Hence the name: 'New Life Choir.'
Guidance by Mohammed Abdel Raheem.
ZUHAUSE 2.0

Fri 22:00h EMS Portal
ZUHAUSE 2.0 is an interdisciplinarian performance with music, visuals and stories about losing your home, the journey towards finding a new one and why we always have to tell where we came from instead of where we're going.
Starring: Élénie Wagner, Davey Bakker, Ahmad Abdulwahhab, Mina Khosro Anjom, Roosmarijn Tuenter, Mirjam van Dijk.
TEDDY'S LAST RIDE: THIRST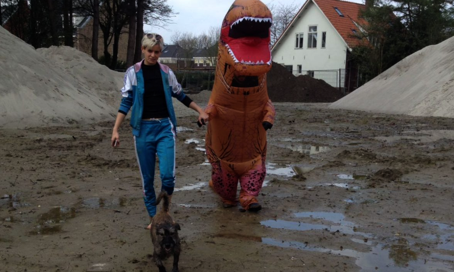 Fri 16:30h, 19:00h, sat: 17:00h, 21:30h, sun 15:00h, 19:30h EMS Ground
A man (Manuel Paolini) attempts to engage in a relation with the lifeless sand. Supported by a literal wall of sound, the crowd will find itself trapped between the impressive sound system and the mountain of sand. As an ode to the attempt, the human condition of standing up after a fall. The performance started from a curiosity towards this remarkable human characteristic of wanting. We are confronted with a human that wants more then the environment can give him. Every attempt, every failure brings him closer to acceptance, still he has to keep standing one way or another. THIRST is an absurd, surreal and fast performance touching themes such as greed, loneliness and the constant battle to never lose. But what's to gain anyway? This project started at Station Noord, the talent development programme by the bigger performing art organisations from the north of the Netherlands. This project is supported through Station Noord by Noorderzon, Club Guy & Roni and Grand Theatre Groningen and is co-produced by Welcome to the Village and Electronic Music Society.
AUTH&TIEK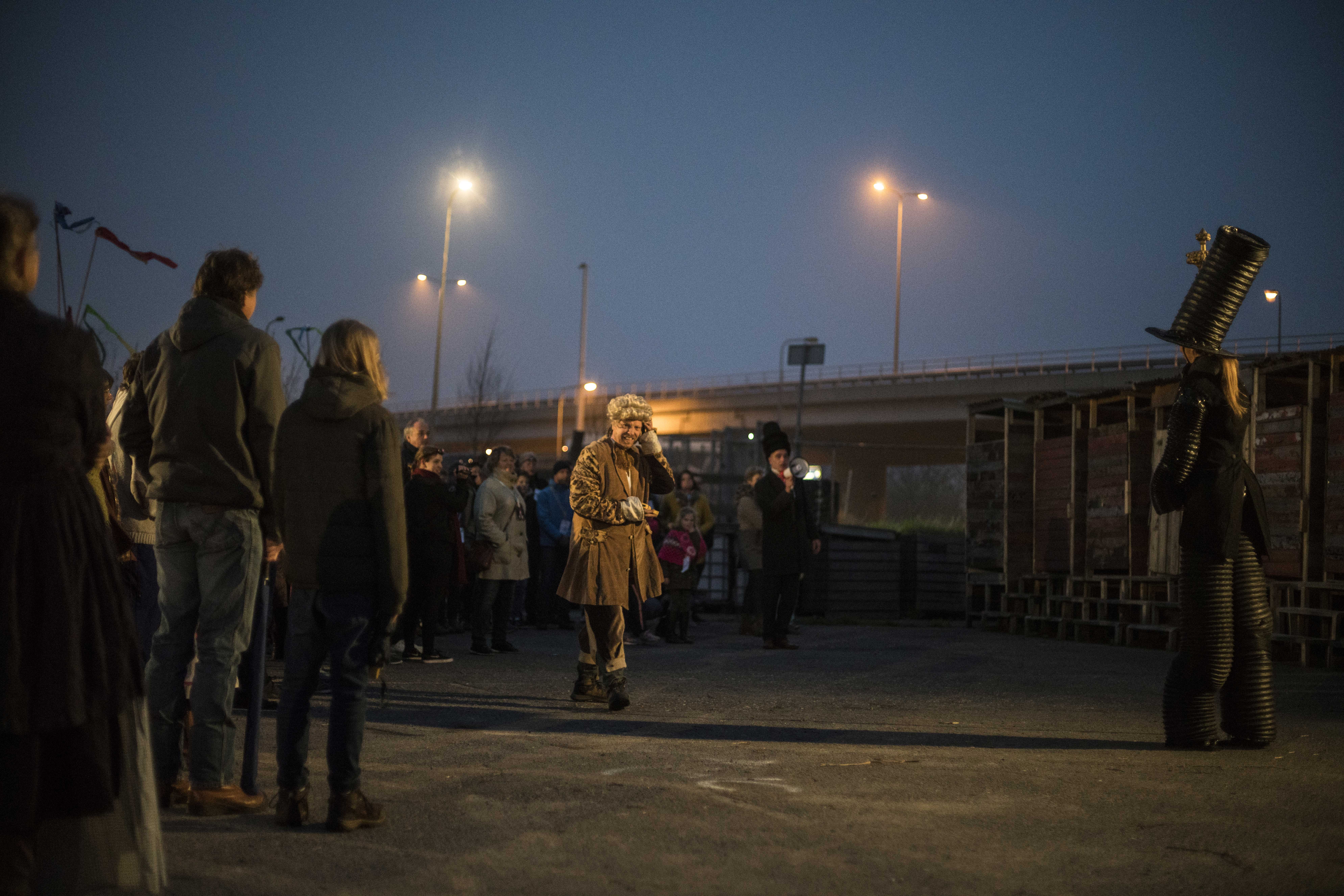 Sat between 16:00h and 19:00h Entrance EMS Area
Theatergroup Auth&Tiek is known for its absurdist and remarkable style of theatre with artistic and atmospheric input. For this special performance at Paradigm Festival they collaborate with Groningen Verwelkomt.
CITY OFF ALL TOGETHER DAILY IN THE MARKET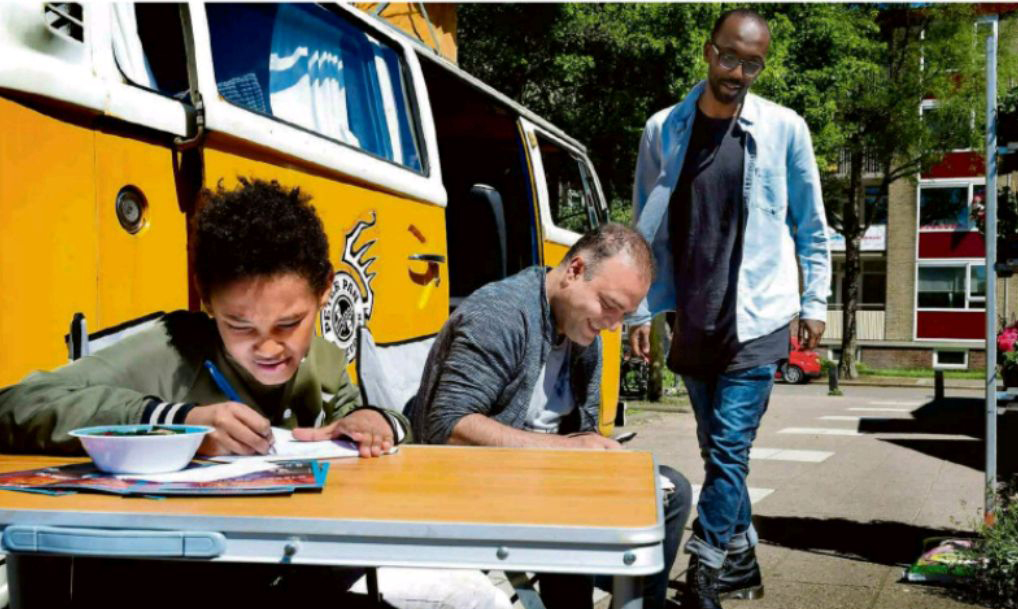 'City of all together' is an ongoing investigation about the ingredients for interpersonal contact. What will it take to get two individuals to really connect? How do worlds come together and how do we get people to perceive not just themselves but also other's views?
By: Mohamed Yusuf Boss.
DJ's:
Saturday is the busiest day of the festival. We've asked a couple of ambient DJ's to bring some peace and quiet to willing visitors at the EMS stage. The following DJ's have been chosen according to the vibe we want to create:

LEE MAC
Sat 12:00h EMS Portal
A flight through space with ambient music and soundscapes.
NATHAN HOMAN
Sat 17:30h EMS Portal
Mantra's paired with warm ambient landscapes and a mirroring rain of instrumental world music.
MICKEY MUNDAY
Sun 17:30h EMS Portal
Journeys across deep jungles, soothing streams and distant shores. Focuses on ambient soundscapes and downtempo techno with shamanic rythms and voodoo percussions.
HARMONIC FREQUENCY
Sun 17:30h EMS Portal
A blend of different flavours of psychedelic downtempo music.
ORCHID
Sun 20:00h EMS Portal
Nothing but gems during this ambient set from Orchid. A classic ambient vinyl set. For example, you can expects sounds like Boards of Canada, Aphex Twin, Global Communication and many more scapes and clicks!
Workshops:
▼ Dj Masterclass 'Lessons In Live'


Sat 16:00h EMS Tent
Guidance by Camiel Daamen
▼ Hatha Yoga
Sun 15:30h EMS Tent
Guidance by Femke Lemstra
▼Guided Meditation
Sat 14:00h EMS Portal, Sun 14:30h EMS Tent
Guidence from Femke Lemstra
▼ Didgeridoo workshop
Sun 16:30h EMS Tent
Guidance from Nick Bastiaansen
▼ Movement Workshop
Sat 14:30h EMS Portal, Sun 15:30h EMS Portal
Let's get moving because everything is constantly moving. So if we practice movement, do we get better in life?
Guidance from Marco Klein from Mindful Movements

▼ Beatbox workshop sun 17:15h EMS Tent
Guidance by BeatMo & Waseem

Lectures and talks:
PANEL DEBATE: EHBO, SECURITY, ADDICTION CARE, VISITORS AND ORGANIZATION

Sun 20:00h EMS Tent
The Paradigm audience will be invited to join in on a panel between the emergency services, security, addiction care and organisation. The goal of this panel is to create the connection between the festival goers and the different parties connected to the festival, both on the terrain and behind the scenes. Developing mutual respect for each other is the thought behind setting this up. Safety is definitely a keyword here. Another goal is to open up a dialogue about anything drugs related. Firstly, the visitors will be asked what they want to talk about. The panel will then be pushed in either of these 6 directions/themes: satefy, drugtesting, peer pressure, security, First Aid and the organisation.

ROJIN TAVASSOLI
Sun 19:00h EMS Tent
'Suprise act.'

40 YEARS OF DRUM COMPUTERS AND SYNTHESIZERS  
Sat 15:00h EMS Tent
Camiel Caamen from Lessons in Live dives into the world of drum computers and synthesizers, which have been the main sources of inspiration for electronic music in the past 40 years. What is the connection between technological advancements and the developments in the music world

PHILOSOPHICAL CHALLENGE
Daily between 12:00h – 17:00h at the caravan at the market
Recognize the feeling of suddendly having a different perspective on things? Someone asking just the right questions? Are you up for a philosophical challenge during the festival?
Margit from Bedrijf de Wijsheid will be available in her cozy caravan and will be taking walk-ins for a good & constructive conversation, one where she will get to the bottom of you and your thoughts. After all, what is wisdom really? So come by and sign up!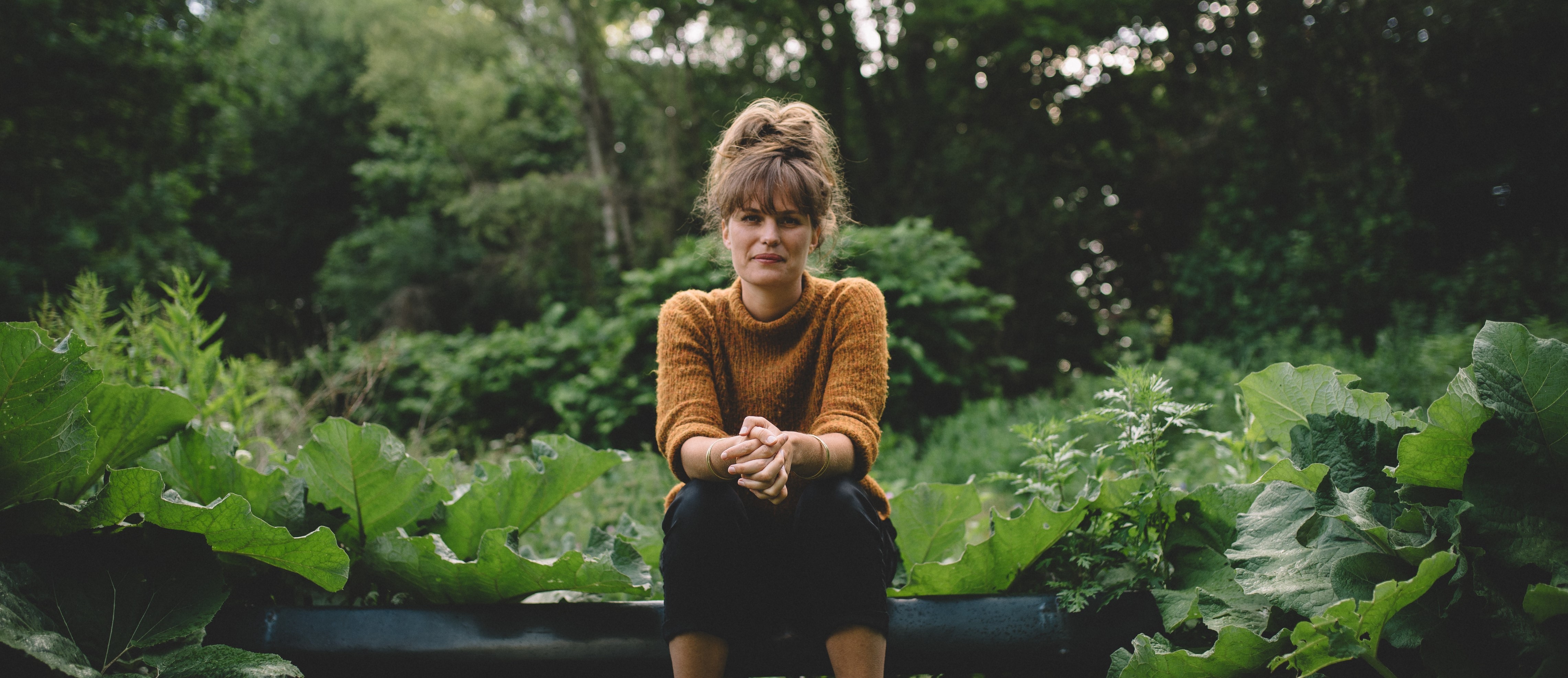 PHILOSOPHICAL GROUP CHALLENGE
Saturday 18:00h EMS Tent
Woolly? Or just really grounded? Attractive or a little repulsive? Do you ever wonder what spirituality actually is?
Come join in on the conversation about the question "What is spirituality?" Margit from Bedrijf de Wijsheid will be there to guide the conversation and teaches you to listen with intent and asking questions in a joint philosophical investigation into spirituality.
CHANGE THROUGH ART AND GARBAGE

Sat 17:00h EMS Tent
Maria Koijk's new lecture shows how you can use art to send a message, even if your idea is rejected at first. It's about the positive influence art can have.
INCANTATIONS
Sat 16:00h EMS Portal
Turn off your phone. Unplug your laptop. Close all the tabs on your inner desktop. Get back into your body. Remove yourself from the choir of opinions on social media. The world isn't 6 mouse clicks but 6 physical handshakes away. Invite them. Invite humanity into this space. Lots of space here. Let's diagnose, create a treatment plan, shut down our minds and dance. A song that wants to be sung hides with this voice. If the will to heal is there, nothing is impossible.
Sieger Baljon (1981) is fascinated by the analogy between the role of the artist and the social rol of the shaman in a pre-modern society. His work entails research about this cross-over and overlap, using shamanistic terms for theatric purposes in a raw and present-day context. As a performer, he's constantly searching for a defragmenting quality of movement and the art of sound in the here and now, transforming this into a complementary vehicle and being carried by the crowd. A jerrycan and a newspaper are sufficient tools to function as ritual drum, a three piece suit makes for a phenomenal shaman outfit. Some tape, a megaphone and a loop station will do the rest.

ARTISTS, BECOME SHAMANS!
Sun 18:00h EMS Tent

Sjamandada: Sieger Baljon. Sieger Baljon (1981) is fascinated by the analogy between the role of the artist and the social rol of the shaman in a pre-modern society. He'll be digging up the historic roots from this overlap in his lecture to clarity the role of an artist in our present-day society.