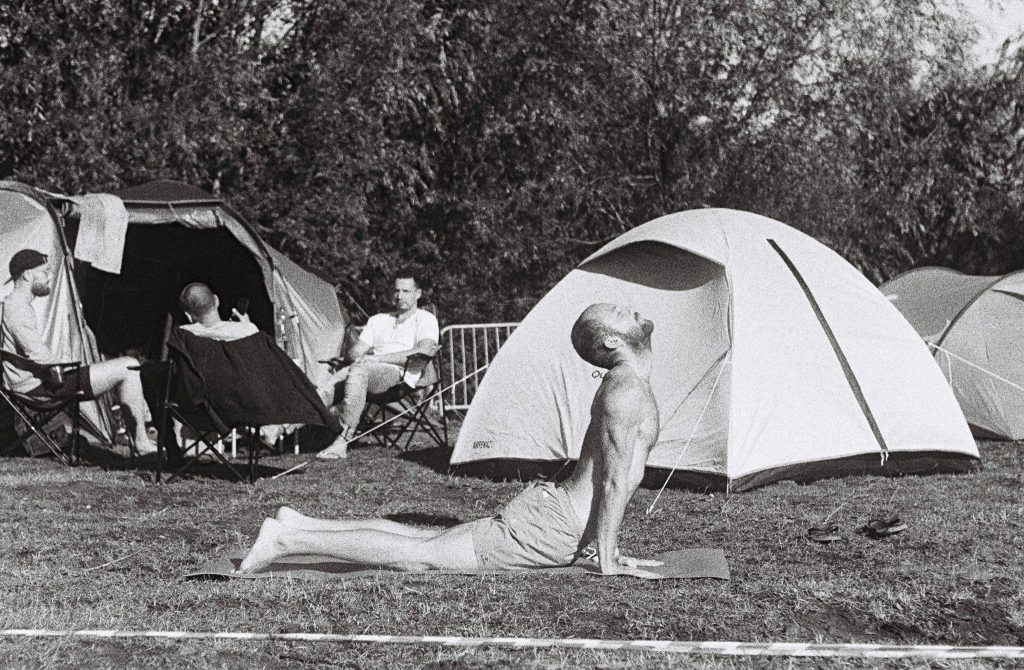 During our festival, travellers might also need a place to rest and relax. That's why, during Paradigm Festival, you'll see the return of a camping ground with several facilities, like toilets and hot showers!
The camping area is within walking distance of the festival stages. If you would like to stay on the campsite, be mindful of the fact that you can't bring your car to the camping. The car needs to be parked at the parking area.
It is also possible to come to the festival with a camper or trailer. You have to leave your car at the parking lot after you've set up your trailer. You will be guided by authorized and easy-to-spot personnel towards a designated camping spot.
How to get to the campsite?
We have our own parking lot for our camping guests (P1). The only way to reach it is to go to the following address: Johan van Zwedenlaan, Groningen. You'll be greeted by a park attendant. When doing so, please be ready to show your camping tickets (which can bought here) and a valid ID. Be mindful that one camping ticket is only valid for a single person. You can follow the signs from then on out! You can go to your camping spot after you've signed in at the front desk.
Flow of arriving visitors
1. Notice the signing for P camping, via Johan van Zwedenlaan.
2. All occupants are required to show their camping tickets at the attendant present.
2.1 When failed to present a camping ticket -> evict at the Kiss&Ride at Energieweg 10.
2.2 When presented a valid camping ticket -> drive straight on and park behind the Zeefgebouw, following the instructions of the parking attendant.
3. Visitors will be informed by the parking attendant that they can check in at the accreditation desk.
4. Visitors are required to have their tickets scanned at the entrance. Again, cars aren't allowed on the campsite. Visitors will then be directed towards the campsite by staff at the accreditation desk, which can only be reached on foot. 
5. Entrance festival campsite. There will be a bracelet check at the campsite. A bracelet is required to gain access. RV's will receive separate instructions on where to park.
6. Cars are allowed when used to park any caravans. They have to be directed to the parking lot afterwards.
7. Visitors will be a assigned a designated camping spot by camping boss Sam. He'll receive assistance by members of the campsite crew when faced with a large crowd during peak opening hours. 
8. Camping guests who arrive after; Friday 1AM, Saturday 2AM, Sunday 12AM (midnight). The gate leading to the Johan van Zwedenlaan will be closed. There will be a signpost to direct visitors to the main crew entrance/suppliers at the Suikerlaan 2 near the McDonalds.
Flow of departing visitors.
1. Until; Friday 1AM, Saturday 2AM, Sunday 12AM (midnight); exit back down the Johan van Zwedenlaan to leave the terrain. 
2. When leaving past the aforementioned times of day; take a left past the Zeefgebouw towards the main entrance of the festival terrain. Visitors can leave at any time.
Are you coming by bike, taxi or on foot? Your destination then changes to Energieweg 10, Groningen. Then follow the parking attendant's instructions.
What are the campsite's opening/closing times?
The campsite opens on Friday the 9th of August at noon (10.00 AM) and closes on Tuesday the 13th at noon (12.00 PM). You can enter and/or exit by vehicle during the following times:
Friday: P1 open 10.00 – 01.00
Saturday: P1 open 10.00 – 02.00
Sunday: P1 open 11.00 – 24.00
Camping rules
We're very proud of our campsite and the good vibes you all bring with you during the festival. We invite you to study the house rules before you leave. This way, you'll have a good understanding of what you can expect from us and what we can expect from you. The camping rules contains information you need to know, such as what you can bring
Click here to read the camping rules.